A Note from Jane
It is still September and our 2019-2020 season has barely started; yet ELM Ambassador students have already performed two concerts. Musically, they couldn't have been more different. But the confidence and the musical excellence with which they played shone through in what is now characteristic of our students' approach to new challenges – musical and otherwise.
In early September, Mariachi Mestizo friends visited again to further our collaboration with a live concert benefiting Little Village Foundation at the 'Freight' in Berkeley. Sharing the stage with esteemed local musicians including the legendary Civil Rights activist and song writer, Betty Reid-Soskin, ELM students performed the music they had recorded a few months earlier that resulted in their first CD. >> Listen to ELM's recording
Just last week, ELM musicians Victor, Nicolas, and Iliana, along with ELM wind faculty Matt Boyles performed a Mozart Flute Quartet alongside world-class chamber musicians of the new nonprofit Musaics of the Bay at the intimate Hillside Club in Berkeley. >> Watch a clip from dress rehearsal
2019-2020 promises to be a tremendous season for us. Just last week, 30 new ELM second and third graders joined our 'family' and our first class of Venetia Valley winds and brass joined their middle school band program – jumping right into the intermediate ensemble.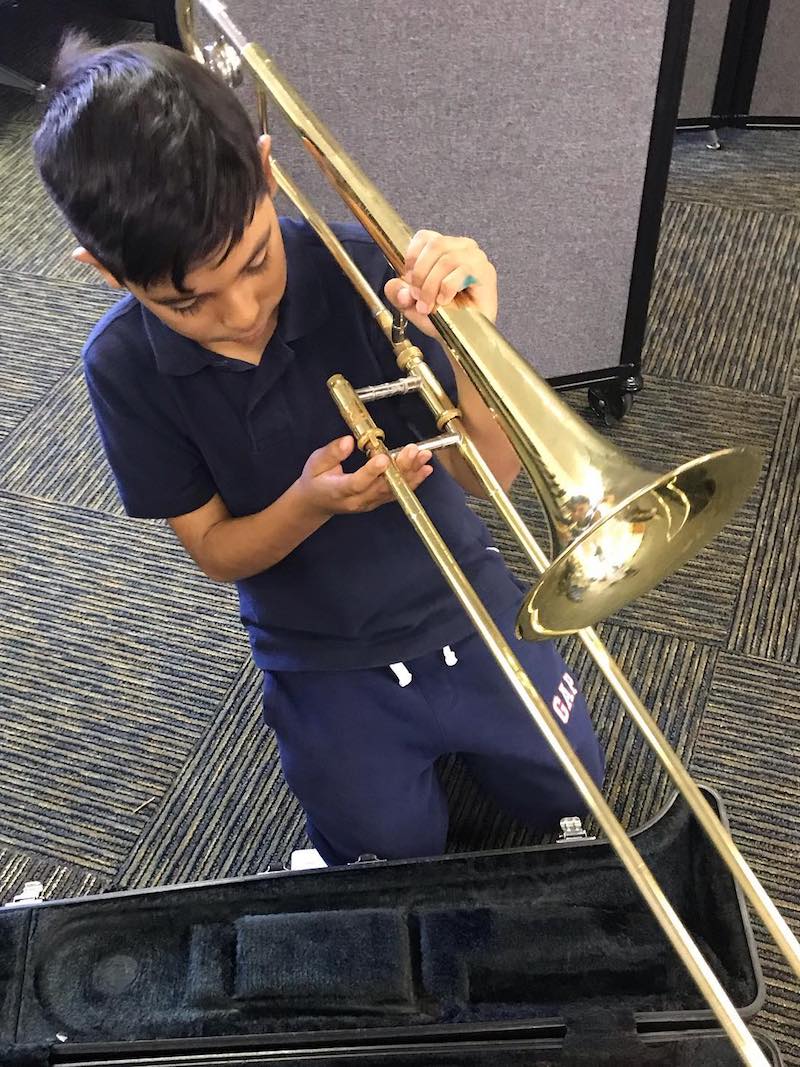 2nd year brass students beaming as they try their instruments for the first time. Photo credit: Tim Porter
And, in addition to three new teaching artists, we have taken a major step towards committing to ELM's future by hiring our first music director, Jessica Bejarano, and I could not be more thrilled. Jessica's experience as an internationally and nationally sought-after conductor and educator will inspire not only our students, but our whole community. She has already spread her passion for Tchaikovsky by introducing Serenade for Strings, which we will perform at our Winter Concert. Learn more about Jessica in Kate Fitzsimmons superb interview with her, featured in this Newsletter.
With gratitude,


Jane Kramer, PhD
Founder and Executive Director
ELM in the News

ELM Students Join Concert Pianist at Musaics of the Bay
Concert pianist Audrey Vardanega founded Musiacs of the Bay to present top-tier chamber music concerts and encourage talented music students from less affluent backgrounds to realize that they can have a life in music too.
On Sept. 20, ELM students joined Musaics in the first of three concerts at the Hillside Club in Berkeley.
Spotlights - Jessica Bejarano
Meet New Music Director, Jessica Bejarano
By Kate Fitzsimmons
38-year-old Jessica Bejarano isn't your typical classical music conductor. For one thing, in a field dominated by men, her gender alone makes her stand out. For another, her Mexican American heritage and a collection of tattoos add color and complexity.
When Jane discovered Jessica in one, of a flurry of media profiles, either through a segment on KQED's Bay Brilliance, or in a feature on the PBS News Hour as part of their Chasing the Dream, Poverty & Opportunity in America, or more recently on NBC's Today Show, she could hardly believe her luck to find that Jessica lived in the Bay Area. Jane set about recruiting her to become ELM's Music Director.

Find us singing at our annual Day of the Dead Pickleweed Celebration with Catherine John
Upcoming Performances
○ November 2 | 3pm – Day of the Dead/Dia de Los Muertos at Pickleweed Park
○ December 15 | 3pm– Winter Concert at Showcase Theater, Marin Center
○ June 7 | TBD – Spring Concert at Angelico Hall, Dominican University
Delight your guests with an ELM ensemble this holiday season
Our students and faculty are available to perform at your holiday get-together or corporate party. Guests will be inspired and entertained, all while giving back to the community.
As students become increasingly proficient on their instrument, they are offered opportunities for perform in public which helps them develop confidence and positive self-identity.
For details and pricing contact:
Christina Lesicko
christina@elmprogram.org | 415.870.9005